Commercial Tires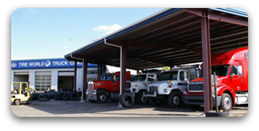 The success of your business is riding on a lot of things; for commercial trucks, this is especially true for tires. Cost per mile, low rolling resistence, long life, and durability are all factors that affect your bottom line. Tire World will provide you quality tires that are professionally installed at a reasonable price. With multiple brands to choose from, we have the right tire for you.
Long Haul, Short Haul, Metro, Construction. Each of these have different demands on the equipment and the tires they run on. Lower rolling resistance,longer wear, durability are all needs of the commercial vehicles to reduce cost per mile. What is the right tire for your needs. Tire World has the right tire at the right price for you!! Our trained associates will sit down and help you to determine the best and most cost effective solution to your tire questions.

Our fleet of service trucks are available to get you back on the road quickly, reducing down time. Tire World's aim is to provide quality, quick response service to our commercial customers. When you go down, we step up to get you rolling again, 24/7 for 365 days of the year. There when you need us. Our after hours service is there for our Commercial account holders. Just one more reason to have a commercial account with Tire World.

We have a top notch alignment shop with an experienced staff that can service your vehicle to make sure you get the most for your investment. Tire World isn 't the biggest, just the best!! We do buisness for the long haul and try to establish and maintain a relationship of trust.

Everyday, we welcome the opportunity to prove to you that you have made the right choice in joining with Tire World to solve your transportation problems. Cooper, Goodyear, Yokohama, Dunlop, and many more National Accounts welcome. Our professionals are always happy to help!

You can apply for a business line of credit or six months no interest financing Start Here.